A NEW PUBLICATION BY SIMCHA PAULL RAPHAEL

recently published by Albion-Andalus Books, of Boulder, CO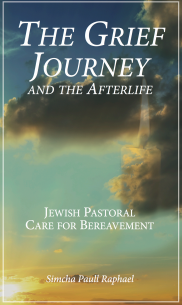 THE GRIEF JOURNEY AND THE AFTERLIFE:
Jewish Pastoral Care for Bereavement
 THE GRIEF JOURNEY AND THE AFTERLIFE synthesizes an understanding of traditional Jewish rituals of death and mourning, with contemporary psychological perspectives on  grief and bereavement. Simcha Paull Raphael  integrates the traditional understanding of  Jewish mourning rituals with little known teachings from  Jewish mysticism on the afterlife journey of the soul. This book is provides practical guidelines for walking the  mourner's path, for  professional  care-givers and for those walking the wrestling with grief and loss, and their families.
Click here to purchase the book from the ONLINE BOOKSTORE
FROM Rabbi Dayle Friedman, author of Jewish Wisdom for Growing Older: Finding Your Grit and Grace Beyond Midlife
Simcha Paull Raphael is a skilled and compassionate guide to the terrain of grief. His elegant weaving of Jewish customs, psychological wisdom and visions of the afterlife provides an invaluable resource for anyone caring for Jewish mourners on their path from loss towards wholeness.
FROM Rabbi Jack Riemer, editor of Jewish Reflections on Death
This is a book that will be an invaluable resource, not only for pastoral counselors, but for all of us who are facing our mortality. In it, Simcha Paull Raphael unpacks the wisdom that is contained within the Jewish tradition of death and dying, and teaches us how these insights can bring health and healing in our time. This is a wise and a helpful book, and should be cherished.
---

SECOND EDITION NOW AVAILABLE!

JEWISH VIEWS OF THE AFTERLIFE is a unique historical and philosophical study tracing the evolution of ideas about individual postmortem survival in Judaism.  Originally published in 1994, this book has become a classic in its time, the most comprehensive examination of life after death in Judaism available in English.
Surveying a far-ranging assortment of texts on life after death in Bible, Apocrypha, Rabbinic literature, medieval philosophy, medieval legendary Midrash, and the Jewish mystical traditions of Kabbalah and Hasidism, this book presents an extensive portrayal of the ever-changing notions of life after death over a period of almost four millennia.
In addition, through a synthesis of Jewish sources with contemporary psychological thought, near-death experiences and consciousness  research, JEWISH VIEWS OF THE AFTERLIFE offers a contemporary statement on ways of understanding the afterlife journey of the soul from a spiritual point-of-view.
Now  a revised second edition of the JEWISH VIEWS OF THE AFTERLIFE has been published by Rowman and Littlefield, and features new material on the practical implications of Jewish afterlife beliefs, including funeral, burial, Shiva, and an updated preface looking at how views on life after death have changed in recent years.
While many affirm a belief in the afterlife, a scarce few are aware of where these teachings can be found in Jewish literature. Both historical and contemporary, this book provides a rich resource for scholars and lay people, for teachers and students, and makes a significant contribution to the growing contemporary psychology of death and dying.
---
A signed copy of Jewish Views of the Afterlife, with "Forward" by Rabbi Zalman Schachter-Shalomi, can be purchased directly from author. Buy online by clicking here, or order by mail below:
Paperback Edition $39.95 plus $4.50 S&H
Send check or money order, payable to:
Dr. Simcha Raphael

DA'AT INSTITUTE
6833 Wayne Avenue
Philadelphia, PA 19119

Review of JEWISH VIEWS OF THE AFTERLIFE by Jaron Justin Lewis, Religion Dept., University of Manitoba, Winnipeg, Man. Studies in Religion/Sciences Religieuses, vol. 40 (June 2011), 253-255
---

DA'AT INSTITUTE PUBLICATIONS!
"DAAT" is a Hebrew word that means "knowledge", and it is the philosophy of the DA'AT INSTITUTE that both a well-informed knowledge and a compassionate caring heart, together, are  powerful and effective ways of helping people live with the reality of death and loss in our times. To further this end, in addition to offering bereavement and hospice counseling, the DA'AT INSTITUTE is committed to preparing and distributing educational resources on death and afterlife. A newly published series of booklets written by Simcha Raphael is now available through the DA'AT INSTITUTE ONLINE BOOKSTORE.
---
From Stella Veretnik, San Diego, CA 
Dear Simcha – I just wanted to let you know how useful your book Jewish Views of the Afterlife was to us. Our son chose this topic for his Bar-Mitzvah project and we spent many hours throughout reading through your book and taking notes… I am happy to say we are almost done with the project and have learned a tremendous amount and not only on the afterlife! Everybody thought it was a very heavy topic for a twelve year old person, but he chose it and struck through it, even though a lot of help and support was required :). As you know very well – there is an amazing lack of books on this subject, so you practically saved us! Thank you! 
From Richard Marceau, Gatineau, Quebec, editor of The Canadian Haggadah canadienne 
Dear Dr. Raphael – Yesterday, I finished reading your book Jewish Views of the Afterlife. I had been looking for such a book for quite a while. It is well written, very informative and accessible for the regular Jew that I am. Thank you for having written it.